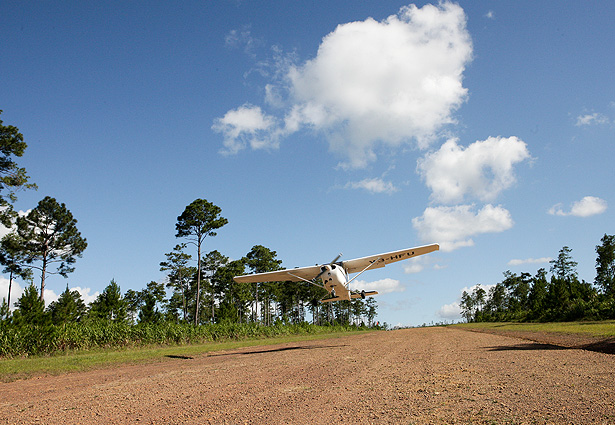 By Air
Most visitors travel to Belize by air, but you can also get here by road or boat. International flights to Belize are via Atlanta, Charlotte, Dallas, Houston, Miami or Los Angeles. Alternatively, visitors can fly into Cancun, Mexico and transfer to Belize via air charter, bus or self-drive (not recommended).
Hidden Valley Inn can arrange for a road transfer from anywhere in Belize to the Inn. Vehicles can accommodate groups of any size from 1 to 28.


Alternative Gateways
Belize can be accessed through San Pedro Sula, Honduras via regional airlines or via Cancun, with travel by bus or charter. Also, by road through Santa Elena on the Western Border of Belize and Guatemala.
Belize Transit
The most popular way of getting around Belize is to fly. Belize is about the size of New Hampshire with an additional 200 or so islands and cayes. Planes, auto and boat are the main modes of transportation. Air is most popular as it is a time saver, however, driving Belize is not difficult and and self-driving offers a true "in-country" experience. Hidden Valley Inn provides road transfers and can help you arrange your in-country air transfers as well.
See Belize Transit Map for details of in-country transportation.
About Self Drive & Directions
Driving Belize is not difficult. Car rentals are available at Belize International Airport. Both the Northern Highway the Western Highway are well maintained roads. As Belize is an English speaking country, should you need to ask for assistance you typically will not find any language barrier. If self-driving, we do recommend making the trip during daylight hours, and cell phones are also available at vendors just outside the airport for your convenience.
The entire trip from Belize City to Hidden Valley Inn should take about 2.5 hours travel time, however, there are a few good stops along the way. For lunch we recommend Old Belize, or a bit further up the road, a local experience, Cheers. Along the Western Highway is The Belize Zoo, and this is often a good time to add this attraction to your itinerary.
NOTE: The drive from the Western Highway into the Mountain Pine Ridge area is along unpaved roads. These roads are "bumpy" and the guides often call this the "Mountain Pine Ridge Massage" jokingly. Self-Drive is part of the Belize adventure. Make certain you have water with you, and communication such as a cell phone.
Driving Directions from the Airport to Hidden Valley Inn
Leaving the airport parking, follow the Belize City signs until you reach a junction. Turn left here up the Northern Highway away from Belize City and continue until you reach a sign to the left for Burrell Boom.
Turn left here and continue until you reach a traffic circle where you bear right toward Belmopan. At Belmopan carry on straight along the Western Highway toward San Ignacio Cayo.
You will pass Caesars gift shop on the right hand side and about five minutes later overhead signs indicate the turn-off to Mountain Pine Ridge and Caracol. There is also a sign on the left for Hidden Valley Inn.
This is the Georgeville Road, first turn off to the Mountain Pine Ridge. Follow the signs for Hidden Valley Inn for about 30 minutes until you reach the forestry gate. You will reach another signpost for the Inn about 10 minutes later Turn left down Cooma Cairns road. Continue until you reach the entrance to the Inn on the left.
From the turn-off on the Western Highway to the Inn allow about 45 minutes driving time on dirt road.
Belize is often also accessed from the West through Santa Elena.
Through Santa Elena/Cristo Rey/San Antonio road
The San Antonio Road turn off is in Santa Elena before San Ignacio. The San Antonio road leads you through 2 villlages, Christo Rey and San Antonio and should take 20 minutes longer than the Georgeville Road.
Before reaching Santa Elena/San Ignacio, you will drive through Red Creek Police checkpoint. Keep going straight until you see a CP gas station on your right. Roughly 100 yards from there, you will see signs overhead indicating the Pine Ridge. Turn left into this road. Hidden Valley signs are present from the turn off up to the Inn. You will drive through Cristo Rey village, followed by San Antonio village. Keep driving until you reach a junction from Georgeville, drive up the mountain until you see the Pine Ridge Forestry Gate. Continue on through the forestry gate until you reach another signpost for the Inn about 15 minutes later. Turn left down Cooma Cairn road toward 1000 feet falls. Continue until you reach the entrance to the Inn on the left.