Meet Your Hosts, Managers Britt and Wayne Vaughan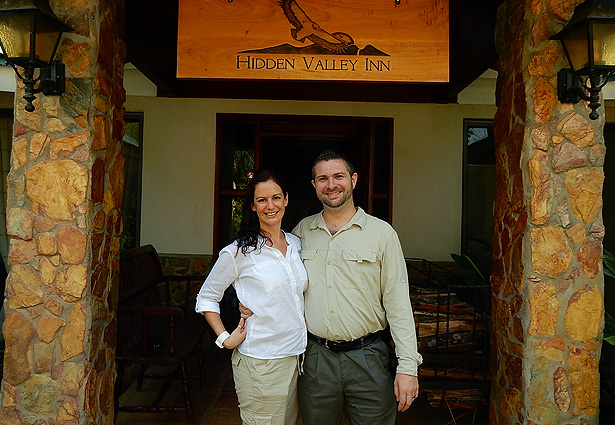 Britt and Wayne Vaughan, Hidden Valley Inn's new management, are here to welcome you to their new home. Having recently been the managers of a Wilderness Safaris property in Botswana, they bring their expertise of "personalized service in the heart of nature" to Hidden Valley Inn & Reserve.

A husband and wife, Wayne Vaughan originally hails from the U.K. where he began his career as a chef in Oxford's popular gastro pubs. Britt Twyford, originally of Johannesburg, South Africa, met Wayne while working in hospitality management in the U.K. Together, the they began their tourism careers in Botswana, managing the upscale Nitani Lodge in the Northern Tuli Game Reserve two years before moving on to Wilderness Safaris.

After six years, looking for a new adventure, the Vaughan's found themselves in Belize this spring. Britt notes that they liked the look of the Hidden Valley Inn from pictures they had seen online and, as outdoor enthusiasts, the two appreciated Hidden Valley's remote location and natural surroundings.

Wayne recalls his initial reaction when finally reaching the property for the first time, "Hidden Valley Inn has a home-like elegance to it, making it both comfortable and special." Britt added that the staff was particularly welcoming and that they felt right at home.