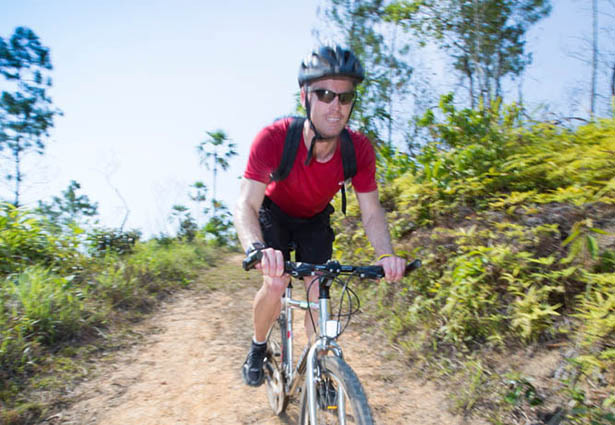 Hiking and Biking
At Hidden Valley Inn, hikes range in difficulty, length and interest. Our staff is here assist guests in custom tailoring daily expeditions to personal ability and comfort level. We also provide complimentary use of 21-speed mountain bikes are available to guests.
The Hidden Valley Institute maintains over 90 miles of trails, all well marked with signage and cleared and checked regularly. The trails have been designed to take hikers and bikers through areas of the Reserve that are chosen for their outstanding interest and beauty. Repairs and maintenance are done using the surrounding natural resources; stairs, bridges and ladders are crafted from felled trees.
For convenience and safety, hikers and bikers are given two-way radios in the event a return ride or directions are needed. Comprehensive guided tours are always available. Always bring water and insect repellent.
While self-guided exploration is an excellent way to experience the property, we do recommend taking at least one guided tour. Our guides bring their full knowledge of the Reserve and its flora and fauna to your expedition. Their acute awareness of the surrounding nature truly enhances your experience as well as your likelihood of spotting rare birds and wildlife.
Hiking and biking routes include short treks and all-day excursions. Along the way, resting places have been created and sometimes include hammocks, chairs and table and jungle platforms. Hidden Valley Inn can provide pack lunches and, for a little on-trail luxury, guests can request that lunch and drinks be set up at a pre-designated point along their route -- anything from a casual picnic lunch to a luxury spread.
The Cascade Trail
It's called Cascade Trail because as you hike you will pass dozens of little streams and cascades, and walk over many bridges. The highest bridge on this trail is called the Sky Bridge. The trail is beautiful and one of our jewels. Start the trail from the "Beverly's Lookout" end so you walk facing the cascades.
Devil's Falls
Meander through tropical broadleaf jungle from Butterfly Falls to Devils Falls (40 minutes), a series of waterfalls and pools tumbling off the escarpment. The last pool, accessible by a wooden ladder, is ideal for a refreshing dip.
Secret Falls and Pools
This idyllic hideaway can be reserved for your exclusive use. This includes a champagne lunch and pick up and drop off by vehicle. Hike from the source down to a crystal clear pool (40 minutes) at the base of a waterfall where you can swim or relax in a hammock. Located along the edge of one or the Reserve's most picturesque waterfalls and pool, The Palapa jungle platform has a slate floor with two chairs and hammocks...a very romantic spot. The platform is often used by honeymooners for private picnics. Swim, lounge and sip champagne adjacent to one of Mother Nature's jewels.
Butterfly Falls
Approximately a 2 to 3 hour walk from the Inn or a 20 minute hike from the parking area near the Falls. This jewel of the property is an 80 foot waterfall cascading into a crystal clear pool just made for swimming. It feels as though you're in a lost paradise as you look up at the rock walls hanging with bromeliads, orchids and ferns.
The Cub's Den
This dammed creek has a thatched palapa complete with hammocks and a cozy table and chairs. This venue is also available to rent exclusively including a champagne picnic lunch and pick up and drop off by vehicle. The falls are a 10 minute stroll from the car park.