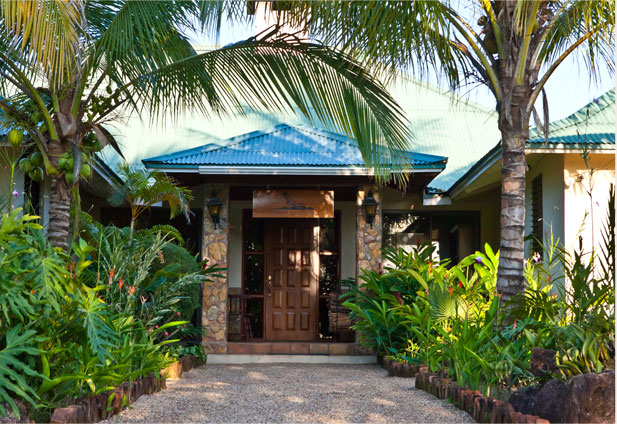 05 Feb, 2013
A Romantic Waterfall Picnic in the Jungle
Couples looking for the most romantic setting for their Valentine's date need to check out the "waterfall front table" at Hidden Valley Inn & Reserve's Secret Pools. This private dining experience brings luxury and amenity to the beautiful and natural setting of the jungle.
Hidden Valley Inn, an intimate resort of just twelve rooms, literally stands alone on its 7,000+ acre private reserve in Belize. The Inn boasts indulgent amenities and comforts such as well-appointed fireplace suites, professional spa services, elegant cuisine and personal service. The reserve offers romantic adventure with over 90 miles of trails, 5 major waterfalls, flora and fauna, jungle pools and breathtaking vistas.
The Hidden Valley Inn Secret Falls & Pools Champagne Picnic is the Inn's most romantic excursion. It epitomizes the resort's mission to bring luxury to the wild. This date begins with a 45-minute hike through lush tropical jungle to a turquoise natural pool complete with 30-foot waterfall and thatched picnic deck. Upon arrival couples find a made-to-order champagne lunch with wine bucket, table linens, china and flowers.
Behind the scenes, the staff at Hidden Valley Inn sets up the lunch, slings hammocks across the trees, places the "Do Not Disturb" Sign across the trail entrance, and leaves you alone. The day is yours to enjoy. If you need an extra bottle of champagne, you can radio back to the lodge with the hand-held radios given to guests exploring the reserve.
Currently, the Secret Falls & Pools Champagne Picnic is available complimentary with your 4-night reservation. Booking must be made by February 28, 2013. Travel is until October 31, 2013.
- See more at: http://hiddenvalleyinn.com/Press-Trade/Press-Releases/Read-Item/id/317/title/privatewaterfall#sthash.M6Su1vdj.dpuf
< Go Back to Press Releases